HZ3 Domestic Heating Oil Meter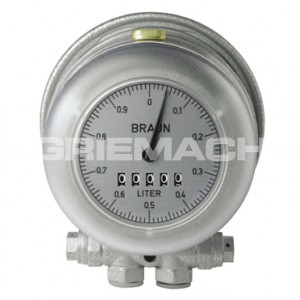 Product Code: OE0045
Availability: In Stock
Prices from: £414.33 (inc VAT)
Ex VAT: £345.27
This product has a standard delivery charge of £12.00
Free delivery on orders over £250.00 (excl. VAT)
The HZ3 domestic heating oil meter is used to measure the quantity of EL fuel oil being used at great accuracy, even at small quantities. This heating oil meter is robust and durable, and allows you to simply read off your oil consumption from the meter display. Ideal for domestic use, the HZ3 can be retrofitted to any existing heating system. These fuel flow meters can be installed in both a central oil supply or part of a one-pipe (suction pipe) system, ensuring that it is installed with the display viewed horizontally and a backwards pitch not exceeding 45 degrees.
Features of the HZ3 Heating Oil Meter:
Heating oil meter
Flow rate: 0.18-30ltr Per Hour
Boiler capacity: 1.65-265kW
Can be fitted to any existing heating system
1⁄4" F DIN 3852-X-G Inlet/Outlet
Measures 0.01 to 1ltr
5 digit non-resettable totaliser
Not for outdoor use
Code
Product
Description
Price (excl VAT)
OE0045
HZ3 Domestic Heating Oil Meter
Max Flow (lph) - 30
Pressure (bar)-(psi) 6-87
Boiler Capacity (kW) - 1.65 - 265
1⁄4" F DIN 3852-X-G
5 digit non-resettable totaliser
Max Fluid Temperature - +70ºc
£345.27
Write a review
Your Name:
Your Review:
Note: HTML is not translated!
Rating:
Bad
Good
Enter the code in the box below:

Ask a question about HZ3 Domestic Heating Oil Meter

Related Products