Heylo - Axial ventilator - PowerVent 6000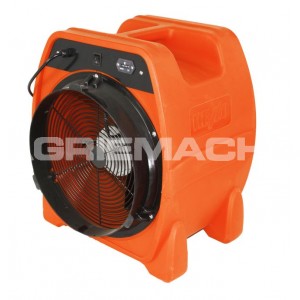 Product Code: 1110824
Availability: In Stock
Price: £715.12 (inc VAT)
Ex VAT: £595.93

The PowerVent 6000 is a high performance ventilator for fast drying and venting.
The fan is used in building construction, underground engineering, ventilation in tunnels and shafts, as well as in industry. It is used for dust extraction, as well as cooling and ventilation.
The PV 6000 provides a maximum airflow with low electrical power consumption.
The fan also transports the air over long distances and with high counter-pressure. Hose operation up to 50m is possible. With the PowerVent 6000, the connection of different distributors allows a more targeted ventilation by means of several hoses.
PowerVent 6000 Features:
Ventilator with an air flow rate of 5,410 m³/h.
Impeller with the highest pressure.
Hose connection on suction and pressure side.
Connection of a dust bag of the M-Class is possible.
Very service-friendly due to upper control box.
Power cable suitable for construction side (H07RN-F).
Easy transport thanks to practical handle and low weight.
Housing made of ABS plastic for high robustness.
Stackable.
Operating light in the power switch.
Useful air volume flow (NLV*) (cum/h)
Electric Connection (V/z)
Power consumption max. (kW)
Lenght / Width / Height (mm)
* Useful air volume flow (NLV): Air volume flow in cum/h measured in work area. Work area: 250 Pa counter-pressure or hose length of approx. 38 metres.
Write a review
Your Name:
Your Review:
Note: HTML is not translated!
Rating:
Bad
Good
Enter the code in the box below:

Ask a question about Heylo - Axial ventilator - PowerVent 6000

Related Products