Heylo - Axial ventilator - PowerVent 6000 combi - Dust Extractor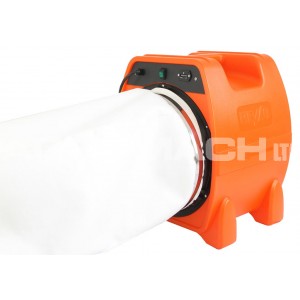 Product Code: 1110875
Availability: In Stock
Price: £974.78 (inc VAT)
Ex VAT: £812.32

The PowerVent 6000 (incl. M-Class dust bag & fastening clamp) is the ideal combination for dust extraction.
By connecting M-Class dust bags on the exhaust side, both dust and dirt particles can be collected at the construction sites of various industries. For ventilation or drying acceleration, it is also possible to connect up to 50m long air hoses. In this way, fresh air can be transported to the most remote areas, and used air can then be extracted.
Areas of application: for dust extraction e.g. for stemming and plastering work, sawing, grinding and tiling work, as well as for painting work; for the ventilation (by connecting air hoses also suitable for shaft or tank ventilation); for drying acceleration (in particular of cavities).
PowerVent 6000 Combi - Dust Extractor Features:
Combination for dust extraction: HEYLO PowerVent 6000 incl. dust bag M-class + fastening clamp.
Light and easy to handle.
Easy transport thanks to practical handles.
Housing made of ABS plastic for high robustness.
Low power consumption.
High air pressure for long hoses.
Dust extraction by means of dust bags (M-Class)
Air flow rate max. (cum/h)
Electric connection (V/Hz)
Power consumption max. (kW)
Power consumption max. (A)
Length / Width / Height (mm)
Write a review
Your Name:
Your Review:
Note: HTML is not translated!
Rating:
Bad
Good
Enter the code in the box below:

Ask a question about Heylo - Axial ventilator - PowerVent 6000 combi - Dust Extractor

Related Products