Agriemach | Supporting Clean Air & Healthy Living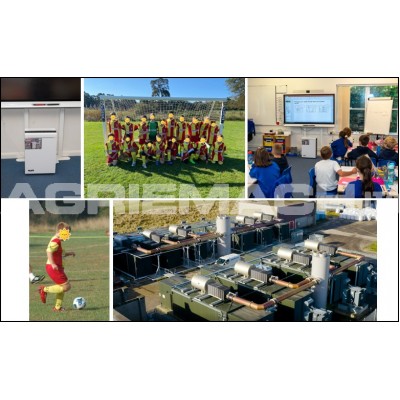 Power is something our population will continue to demand for ever more. How this power is generated will continue to change; but for now, we are still burning fossil fuels. While we continue to do this, Agriemach cannot solve all of the emissions issues globally, but what we can do is make a difference working with our customers and continue to engineer solutions from Power Generating Plant to construction machinery exhaust gas after-treatment.
In the meantime and as well as Exhaust Gas Emissions Cleaning; Agriemach have donated air purification systems for each room of a local school, using HEPA14 medical grade filter media, along with sponsoring and supporting a local youth football team, purchasing a brand new full kit for the current season.
Where we can, we want to promote clean air and certainly help with our following generations by keeping air clean in school and helping promote healthy activities such as football - working as a team – being considerate - enjoying life.
Agriemach are playing a very small part on the grand scheme of things - but when all businesses and individuals "chip in" to do their part; it makes a huge difference for the good of future generations.
www.agriemach.com | +44 (0) 1342 713743 | info@agriemach.com