High Temperature Paint - Silver - 400 Ml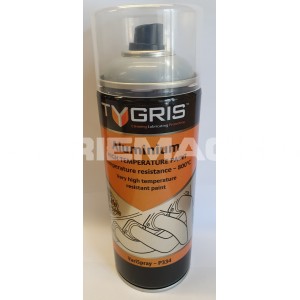 Product Code: T12002
Availability: In Stock
Price: £15.98 (inc VAT)
Ex VAT: £13.32

This paint has been formulated for use when elevated temperatures are expected. It can be used on engine blocks, exhaust manifolds, brake drums, wood burning stoves, boiler flue pipes and in many other instances. Based on a silicone modified alkyd, when cured, the resins burn off leaving a heat resistant silicone matrix. A quick drying, matt finish
Temperature Resistance 800 Degrees Centigrade
Odour: Characteristic paint odour
Contents: A blend of naphtha and xylene with appropriate colouring pigments propelled by propane/isobutane
Storage: Below 50˚C
Flash Point: <0˚C
Temperature range: Working temperature up to 650˚C
Solubility: Insoluble in water
Directions for Use: Ensure surface to be painted is free of loose flaking material and is rust and grease free. Shake can for 2 minutes and spray onto surface in light coats with a back and forth motion. Invert can after use and spray to clear nozzle.
Write a review
Your Name:
Your Review:
Note: HTML is not translated!
Rating:
Bad
Good
Enter the code in the box below:

Ask a question about High Temperature Paint - Silver - 400 Ml

Related Products