Stainless Steel Exhaust Rain Caps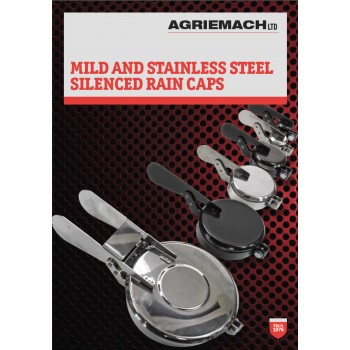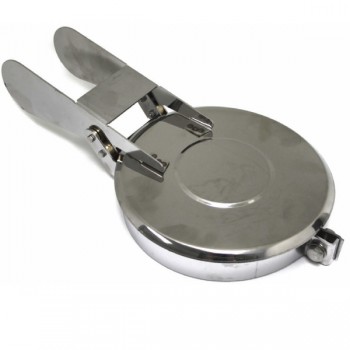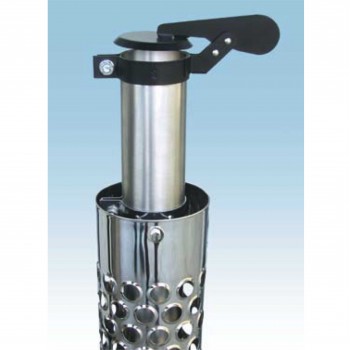 Overview
The Agriemach silenced rain cap has been designed and manufactured to eliminate noise from a mufflers exhaust pipe.
The Agriemach silenced rain cap is made from Stainless Steel and assembled with bushes made of polyamides and fibre glass. It can also be supplied in Mild Steel. This choice of materials, assures the highest mechanical resistance to stress due to irregular and discontinuous exhausted gas flow. The manufacturing process of cataphoresis creates high resistance to atmospheric agents, therefore preventing oxidisation from effecting its efficiency. Each rain cap is supplied together with M10 fixing bolts.
Sizes range from 38mm diameter to a 457mm diameter, our silenced rain caps are manufactured with a double equaliser.
The choice of the Agriemach silenced rain cap should be made according to the exhaust pipe diameter, which in the table corresponds to the clamp`s internal diameter, as shown in column "A" in the table.
Specification
Stainless Steel
Silent Operation
Also Available in Mild Steel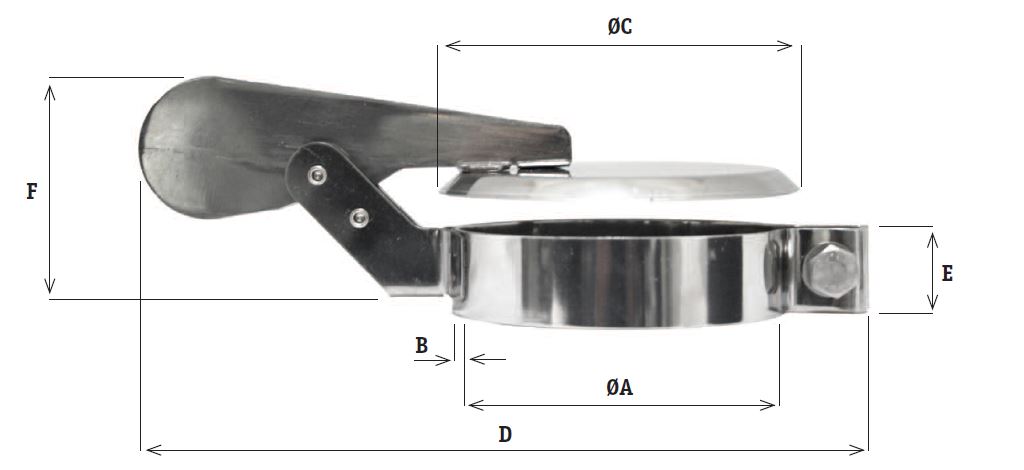 | Pipe OD mm (inch) ØA | B | ØC | D | E | F | Finish | Part Number |
| --- | --- | --- | --- | --- | --- | --- | --- |
| 38 (1 1⁄2) | 2.5 | 55 | 194 | 25 | 83 | Mild Steel Black Painted | 6S-27038 |
| | | | | | | Stainless Steel | 6S-28038 |
| 40 (1 5⁄8) | 2.5 | 55 | 196 | 25 | 83 | Mild Steel Black Painted | 6S-27040 |
| | | | | | | Stainless Steel | 6S-28040 |
| 43 (1 2⁄3) | 2.5 | 55 | 199 | 25 | 83 | Mild Steel Black Painted | 6S-27043 |
| | | | | | | Stainless Steel | 6S-28043 |
| 45 (1 3⁄4) | 2.5 | 61 | 201 | 25 | 83 | Mild Steel Black Painted | 6S-27045 |
| | | | | | | Stainless Steel | 6S-28045 |
| 48 (1 7⁄8) | 2.5 | 61 | 204 | 25 | 83 | Mild Steel Black Painted | 6S-27048 |
| | | | | | | Stainless Steel | 6S-28048 |
| 50 (2) | 2.5 | 61 | 206 | 25 | 83 | Mild Steel Black Painted | 6S-27050 |
| | | | | | | Stainless Steel | 6S-28050 |
| 55 (2 1⁄8) | 2.5 | 67 | 211 | 25 | 83 | Mild Steel Black Painted | 6S-27055 |
| | | | | | | Stainless Steel | 6S-28055 |
| 60 (2 3⁄8) | 2.5 | 75 | 216 | 25 | 83 | Mild Steel Black Painted | 6S-27060 |
| | | | | | | Stainless Steel | 6S-28060 |
| 65 (2 1⁄2) | 2.5 | 75 | 221 | 25 | 83 | Mild Steel Black Painted | 6S-27065 |
| | | | | | | Stainless Steel | 6S-28065 |
| 70 (2 3⁄4) | 2.5 | 89 | 226 | 225 | 83 | Mild Steel Black Painted | 6S-27070 |
| | | | | | | Stainless Steel | 6S-28070 |
| 76 (3) | 2.5 | 89 | 232 | 25 | 83 | Mild Steel Black Painted | 6S-27076 |
| | | | | | | Stainless Steel | 6S-28076 |
| 80 (3 1⁄8) | 2.5 | 94 | 236 | 30 | 88 | Mild Steel Black Painted | 6S-27080 |
| | | | | | | Stainless Steel | 6S-28080 |
| 89 (3 1⁄2) | 2.5 | 104 | 245 | 30 | 88 | Mild Steel Black Painted | 6S-27089 |
| | | | | | | Stainless Steel | 6S-28089 |
| 92 (3 5⁄8) | 2.5 | 119 | 248 | 30 | 88 | Mild Steel Black Painted | 6S-27092 |
| | | | | | | Stainless Steel | 6S-28092 |
| 103 (4) | 2.5 | 119 | 259 | 30 | 88 | Mild Steel Black Painted | 6S-27103 |
| | | | | | | Stainless Steel | 6S-28103 |
| 114 (4 1⁄2) | 2.5 | 131 | 270 | 30 | 88 | Mild Steel Black Painted | 6S-27114 |
| | | | | | | Stainless Steel | 6S-28114 |
| 120 (4 3⁄4) | 2.5 | 131 | 276 | 30 | 88 | Mild Steel Black Painted | 6S-27120 |
| | | | | | | Stainless Steel | 6S-28120 |
| 127 (5) | 2.5 | 150 | 283 | 30 | 88 | Mild Steel Black Painted | 6S-27127 |
| | | | | | | Stainless Steel | 6S-28127 |
| 133 (5 1⁄4) | 2.5 | 156 | 376 | 30 | 98 | Mild Steel Black Painted | 6S-27133 |
| | | | | | | Stainless Steel | 6S-28133 |
| 139 (5 1⁄2) | 2.5 | 156 | 382 | 30 | 98 | Mild Steel Black Painted | 6S-27139 |
| | | | | | | Stainless Steel | 6S-28139 |
| 150 (5 7⁄8) | 2.5 | 186 | 395 | 30 | 98 | Mild Steel Black Painted | 6S-27150 |
| | | | | | | Stainless Steel | 6S-28150 |
| 160 (6 1⁄4) | 2.5 | 186 | 403 | 30 | 98 | Mild Steel Black Painted | 6S-27160 |
| | | | | | | Stainless Steel | 6S-28160 |
| 170 (6 5⁄8) | 2.5 | 186 | 413 | 30 | 98 | Mild Steel Black Painted | 6S-27170 |
| | | | | | | Stainless Steel | 6S-28170 |
| 180 (7) | 2.5 | 219 | 440 | 30 | 108 | Mild Steel Black Painted | 6S-27180 |
| | | | | | | Stainless Steel | 6S-28180 |
| 193 (7 1⁄2) | 2.5 | 219 | 453 | 30 | 108 | Mild Steel Black Painted | 6S-27193 |
| | | | | | | Stainless Steel | 6S-28193 |
| 200 (7 7⁄8) | 2.5 | 219 | 460 | 30 | 108 | Mild Steel Black Painted | 6S-27200 |
| | | | | | | Stainless Steel | 6S-28200 |
| 219 (8 5⁄8) | 2.5 | 242 | 462 | 30 | 98 | Mild Steel Black Painted | 6S-27219 |
| | | | | | | Stainless Steel | 6S-28219 |
| 245 (9 5⁄8) | 2.5 | 265 | 488 | 30 | 98 | Mild Steel Black Painted | 6S-27245 |
| | | | | | | Stainless Steel | 6S-28245 |
| 250 (9 7⁄8) | 2.5 | 280 | 493 | 30 | 98 | Mild Steel Black Painted | 6S-27250 |
| | | | | | | Stainless Steel | 6S-28250 |
| 254 (10) | 2.5 | 280 | 497 | 30 | 98 | Mild Steel Black Painted | 6S-27254 |
| | | | | | | Stainless Steel | 6S-28254 |
| 273 (10 3⁄4) | 2.5 | 295 | 516 | 30 | 98 | Mild Steel Black Painted | 6S-27273 |
| | | | | | | Stainless Steel | 6S-28273 |
| 277 (10 7⁄8) | 2.5 | 295 | 537 | 30 | 108 | Mild Steel Black Painted | 6S-27277 |
| | | | | | | Stainless Steel | 6S-28277 |
| 300 (11 3⁄4) | 2.5 | 322 | 560 | 30 | 108 | Mild Steel Black Painted | 6S-27300 |
| | | | | | | Stainless Steel | 6S-28300 |
| 323 (12 2⁄3) | 2.5 | 360 | 583 | 30 | 108 | Mild Steel Black Painted | 6S-27323 |
| | | | | | | Stainless Steel | 6S-28323 |
| 325 (12 3⁄4) | 2.5 | 360 | 585 | 30 | 108 | Mild Steel Black Painted | 6S-27325 |
| | | | | | | Stainless Steel | 6S-28325 |
| 332 (13) | 2.5 | 360 | 592 | 30 | 108 | Mild Steel Black Painted | 6S-27332 |
| | | | | | | Stainless Steel | 6S-28332 |
| 355 (14) | 2.5 | 396 | 615 | 30 | 108 | Mild Steel Black Painted | 6S-27355 |
| | | | | | | Stainless Steel | 6S-28355 |
| 400 (15 3⁄4) | 2.5 | 435 | 730 | 30 | 108 | Mild Steel Black Painted | 6S-27400 |
| | | | | | | Stainless Steel | 6S-28400 |
| 406 (16) | 2.5 | 435 | 736 | 30 | 108 | Mild Steel Black Painted | 6S-27406 |
| | | | | | | Stainless Steel | 6S-28406 |
| 457 (18) | 2.5 | 490 | 787 | 30 | 108 | Mild Steel Black Painted | 6S-27457 |
| | | | | | | Stainless Steel | 6S-28457 |