Hidradep F1m Hydraulic Oil Filtration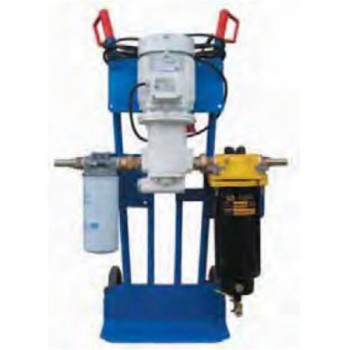 Overview
The problem existing in hydraulic tanks starts with the temperature changes that occurs on them. When the machines are working, the oil flows at a high temperature, which drastically falls when the equipment is stopped. This change in the temperature creates condensation. This means that the tank sweats which generates rust in the tank.

This rust particles are flowing free in the system, and are harmful for the hydraulic system. Also the condensation decreases the lubricating values that the oil needs to have.

Due to this problem it is quite advisable to have a maintenance system like this.
Specification
40 Litres Per Minute Flow Rate
Suction from 5m
Self Venting Gear Pump, 4hp, 220VCA 50hz, by-pass set from 10-15bar
Inlet to primary filter 1.5" NPT
Protection IP55
Outlet from secondary filter 1.5" NPT
Primary Filter with absorbing media of 10 Micron
Primary Filter head with by-pass & vacuum gauge
Secondary Filter cellulose - 1 Micron
Trolley Mounted
Weight of system dry 70kg
Instructions/Data sheet