Dustbuster - Housings For Dry Filter - Static Vane System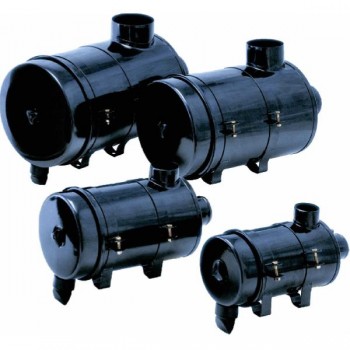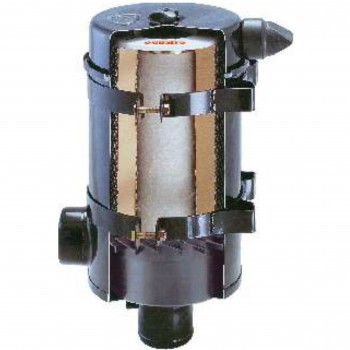 Overview

PRODUCTS
These Air Filters have a steel housing with a static vane first stage. Primary and safety filter elements are standard. This range is a three-stage air cleaner system with universal mounting bands. The standard tube style intlet is suitable for use with an DUSTBUSTER Air Precleaner. DUSTBUSTER Air Filters are powder coated for a durable, corrosion-resistant finish. Air flows range from 53 to 1517 CFM (1.5 to 43.0 m3/min).

APPLICATIONS
These Air Filters are designed to be connected to the air intake of the gasoline, diesel or compressed natural gas engine. Their applications include agricultural machinery; earth-moving equipment; stationary engines; generator sets; trucks; busses and recreational vehicles; material handling equipment; snow removal equipment and street sweepers.

HOW THEY WORK
Air flows through static vanes (plastic or metal) which causes the air to spin. Centrifugal force separates the heaviest impurities (dust, dirt, insects and other debris) from the air stream. These contaminants are discharged automatically through an integral evacuator valve. Only purified air flows to the air filter elements (primary and safety stages of filtration). These elements retain the 99,9% of the contaminants which were not eliminated in the first stage. Then clean air flows to the engine through the outlet pipe.
Specification
The first stage (static vanes and evacuator valve) removes larger contaminants from the air before entering the air filter elements.
Extend engine air filter life.
Reduce down time.
Compact, easy to install.
Wide range of applications.
Steel housing, black powder coat.
High air flow, low differential design.
Horizontal mounting.
Standard element replacement.
Safety element is standard.
Restriction indicator port is standard.
Suitable for use with an DUSTBUSTER Air Precleaner.
Instructions/Data sheet