Thermotec Cool It Mat - 48" X 48"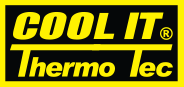 Brand:
Thermotec
Product Code:
14110
Availability:
In Stock
Price: £93.38 (inc VAT)
Ex VAT: £77.82

The secret of the Cool-It Mat is an innovative combination of heat and sound control technologies, a layering of materials possessing different protective characteristics. The mat is composed of a resin-bonded silica blanket insulation sandwiched between a mylar facing on one side and a foil facing on the other. The foil reflects the heat away from surfaces or areas which need to be kept cool or protected from heat damage. The Mylar facing is oriented to the heat source when a lower heat tolerance is required. the middle layer, or spun glass blanket, assists in heat dissipation and is the main sound insulator in the mat. It has a dual density so it has excellent sound absorption at both low and high frequencies
Write a review
Your Name:
Your Review:
Note: HTML is not translated!
Rating:
Bad
Good
Enter the code in the box below:
Ask a question about Thermotec Cool It Mat - 48" X 48"
Related Products