CTS Fuel Recirculation Unit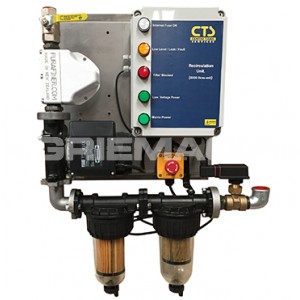 Product Code: F0075510D
Availability: In Stock
Prices from: £401.87 (inc VAT)
Ex VAT: £334.89
This product has a standard delivery charge of £12.00
Free delivery on orders over £250.00 (excl. VAT)
The CTS Fuel Recirculation Unit is designed to be installed to prevent diesel fuel inside a storage tank from getting stagnant - particularly those with low usage such as generator back up tanks, that whilst not regularly used are of vital importance. By keeping the fuel free of contaminants and bugs, costly damage and downtime to equipment and vehicles is avoided.
The fuel storage tank filtration system draws the fuel up from the front of the tank through the magnetic conditioner, keeping any bacteria microbes dormant, and then through a two stage water and particle filtration process to remove any impurities before circulating back into the tank.
The CTS storage tank recirc unit has an input for connecting to an alarm/gauge to detect a low fuel level and a leak probe for a drip tray (if installed). Benefiting from a control panel with large, coloured lights, any issues that need to be dealt with i.e. filter blocked, low fuel level, a leak or a system fault can be easily diagnosed. If the system identifies any of the above issues, the pump will turn off until necessary action has been taken as a safeguard. Complete with two BMS outputs, the control panel can also send a signal of this to warn users remotely.
Please note: The system is set up to circulate the fuel Monday-Friday, 15 mins on/15 mins off. If you wish to specify the time periods, please see the downloads for the questionnaire we will use to configure the timer before dispatch.
Features of the CTS Fuel Tank Conditioner:
Italian manufactured Piusi Panther Pump
Purafiner magnetic fuel conditioner
30 micron water & 5 micron particle filter
Timer to control the periods that the fuel is circulated
Flow switch to detect filter block and turn off pump
IP55 control panel to alert of filter block, low level/leak/fault
Input for connecting to low level alarm/gauge or leak probe
2 x BMS outputs for remote warning of above statuses
Mushroom style emergency stop button
Versions for circulating up to 5000 & 10,000 litres per day
Suitable for diesel
230v
Code
Product
Description
Price (excl VAT)
CTS1048
Fuel Recirculation Unit 10000l
230v
Up to 10000 litres per day
Panther 72 pump
Fuel conditioner
30 micron water filter
5 micron particle filter
Suitable for diesel
£1,922.80
CTS1033
Fuel Recirculation Unit 5000l
230v
Up to 5000 litres per day
Panther 56 pump
Fuel conditioner
30 micron water filter
5 micron particle filter
Suitable for diesel

£1,755.60
F0075510D
Piusi Ocio Fuel Tank Level Gauge 230v - Any Fluids
Reading Type: 0-100%/mm/inches/litres/gal
Tank Height (mm) - 600-4000
Capillary Length (m) - 10
Capillary Type - 6 x 4 Rilsan PA12
Brass Balance Chamber Weight
Balance Chamber Fitting: 1/2" M BSP
Max Working Temperature: -20ºc/+50ºc
Diesel, water, windscreen and oil if additional oil kit is purchased
£334.89
Accessories
| Code | Accessory | Price (excl VAT) | |
| --- | --- | --- | --- |
| F00611040 | Spare 30 micron Water/Particle Element | £32.65 | |
| F00611030 | Replacement Particle Filter | £19.92 | |
| SWS2001 | Mains Multi Zone Alarm c/w Relays | £197.29 | |
| SWS1035 | Single Fuel Probe – for leak detection if drip tray is installed | £36.78 | |
Write a review
Your Name:
Your Review:
Note: HTML is not translated!
Rating:
Bad
Good
Enter the code in the box below:

Ask a question about CTS Fuel Recirculation Unit

Related Products