GE Jenbacher NOx Reduction – SCR System London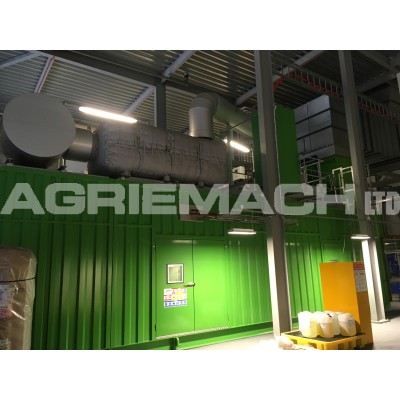 Agriemach recently finished commissioning their NOxBUSTER SCR System fitted to this JMS 612 Natural Gas 2MWe engine in London.
The requirement was to reduce the NOx from 500mg/Nm3@5%O2 down to a NOx Limit of 88mg/Nm3@5%O2. The scope of supply consisted of full SCR design for Integration, Manufacture and Delivery, Bespoke High Temperature Thermal Insulation, Compressor, Bulk Urea Tank and Transfer Pump, along with some PLC upgrades for external data logging requested by the customer.
Agriemach offer the flexibility to adapt their designs from mechanical engineering, to the electrical engineering of the SCR PLCs – flexibility is vitally important as each application is different, and offers our customers new challenges each and every time. Our approach offers a flexible product which we engineer to suit the requirement.
Please click here for further details on Selective Catalytic Reduction Systems or email us at info@agriemach.com or call our offices +44 (0) 1342 713743