NOxMASTER™ SCR | 2400 kWe | 95% NOx Reduction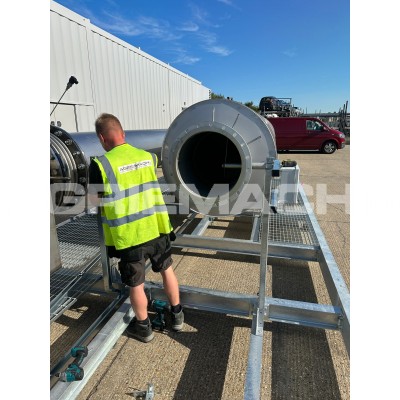 The Agriemach installation teams are working on multiple sites this week and here we have the first of 20x skid mounted NOxMASTER™ SCR Systems being assembled.
These systems have been engineered for ease of installation off site, in order to "plug and play" on site when lifted into final position. This significantly reduces installation activity at the end customers facility and provides significant benefit to the project delivery.
These 2.4MWe NOxMASTER™ systems will reduce the NOx emitted by the engine by 95% with the added benefit of integrated silencing down to 75 dB(A)@1m.
Our "in house" customisable PLC programme offers Modbus connectivity for each system, providing full visibility of the SCR dosing system and exhaust gas conditions that are being monitored. Not only perfect for Environment Agency reporting for permits to run; this also offers live visibility of the system health and operating performance in a live continuous state for the client.
Design, Manufacture, Delivery, Installation, Commissioning and ongoing servicing of our NOxMASTER™ SCR Systems is all part of our comprehensive service. It's what we do!
For further details on our Exhaust Gas Aftertreatment Solutions, a copy of our reference list or simply to speak with one of our technical engineers about your specific application, please contact us +44 (0) 1342 713743 | info@agriemach.com | www.agriemach.com