NOxMASTER™ SCR | 3.6MWe Generators | 10.8MW Installation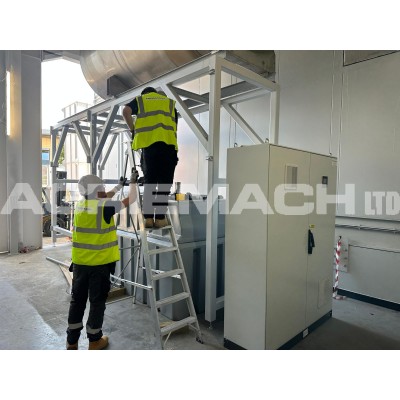 This week Agriemach have commissioning teams out completing handovers at new energy centres; AdBlue tanks being delivered and also more heading into production, as well as new SCR deliveries to both sites and packagers.
This particular photo is one of the Agriemach installation teams onsite this week for a customer who have supplied 10.8MWe of new diesel power which requires the exhaust gas emissions to be brought down to MCPD (Medium Combustion Plant Directive) specification for site compliance.
This NOxMASTER™ Engineered solution required integrated silencing to 80dB(A)@1m as part of the scope and in order to reduce the overall footprint of the solution. As you can appreciate; 3.6MWe of diesel power generation from this reciprocating engine produces plenty of exhaust gas and noise when running on load; so the system is certainly not small which is why our integrated silencing functionality was a perfect addition for this customer and this application.
This site will also be using HVO Fuel to feed these generators. A common request we are seeing more and more for our exhaust gas after-treatment systems to work with. Agriemach are used to working with plenty of different fuel types. NOxMASTER™ plants are already running on B100 and used cooking oil – so this is no challenge at all.
To book a NOxMASTER™ overview and training day with us either remotely or in person; please do not hesitate to contact us and we will pleased to host you.
For further details on our engineered solutions for exhaust gas after-treatment and how Agriemach can assist you with compliance for your permit; please contact us on +44 (0) 1342 713743 | info@agriemach.com | www.agriemach.com
You can also request a copy of our most up-to-date site reference list, along with fuel types and many, many different engines and variable load profiles.
Engineered solutions – its what we do!