Diesel Oxidation | 3-Way Catalysts | NOxMASTER™ SCR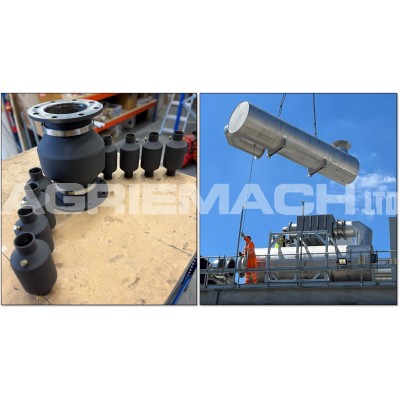 It was difficult not to notice a selection of small catalysts going through final quality checks today when walking through dispatch and looking in amazement at just the physical size difference of our catalysts depending on the application.
On the left of this photo the very small catalysts are in fact Diesel Oxidation Catalysts for engines up to 40kW – 45mm exhaust diameter and their job will be to effectively convert Carbon Monoxide to Carbon Dioxide and also reduce the Hydrocarbons in the exhaust gas. Although these are only "tiddlers" they will be carrying out high efficiency reduction rates for these machines and assisting with the general air quality for the people working near them.
The larger catalyst in the middle of the eight smaller ones is a 3-Way Catalyst to be fitted to a 150kW Natural Gas Stoichiometric CHP operating at Lambda 1 for the conversion of Carbon Monoxide, Hydrocarbons and the reduction of Nitrogen Oxides (NOx). This catalyst has quite a bit more work to do than the previous oxidation ones and requires fine control to avoid Lambda swings from the engine, incorporating an UEGO Sensor Port, along with suitable exhaust gas expansion over the catalytic surface – a diffuser plate is part of the inlet design to assist with flow dynamics.
Then we move onto the photo on the right hand side which is one of our NOxMASTER™ SCR Catalyst Exhaust Systems, complete with integrated silencing. What a difference in size; however this application is for a 2,145kW Diesel Generator with a considerable amount more exhaust gas to treat and a silencing requirement down to 70dB(A)@1m.
40kW | 150kW | 2,145kW respectively.
No matter what size or fuel type the application is, Agriemach offer a solution to cater for Exhaust Gas Emissions reduction. It`s what we do!
For further details, a copy of our reference list or to book a visit to one of our many live sites to see our exhaust gas after-treatment solutions in action; please contact the team on +44 (0) 1342 713743 | info@agriemach.com | www.agriemach.com