Diesel Generators | 2.4MWe | NOxMASTER™ SCR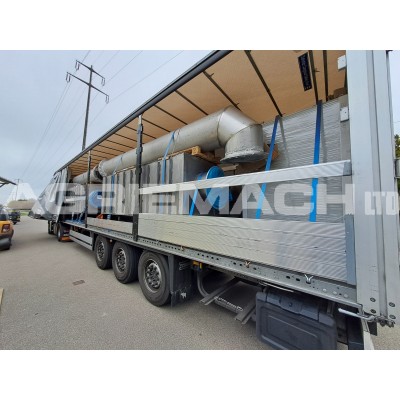 Four full trucks of NOxMASTER™ SCR Systems rolled out of our production facility last week after quality checks were concluded and signed off.
Seven 2.4MWe systems are destined for site where they will reduce the NOx emissions by 98% and provide integrated silencing functionality down to 80dB(A)@1m.
What are NOx Emissions and how do they affect us?
Short-term exposure to concentrations of NO2 can cause inflammation of the airways and increase susceptibility to respiratory infections and to allergens. NO2 can exacerbate the symptoms of those already suffering from lung or heart conditions. In addition, NOx can cause changes to the environment. Deposition of Nitrogen to the environment both directly as a gas (dry deposition) and in precipitation (wet deposition) can change soil chemistry and affect biodiversity in sensitive habitats.
Nitrogen oxides are also precursors for the formation of ozone. Ozone is a gas which is also damaging to human health and can trigger inflammation of the respiratory tract, eyes, nose and throat as well as asthma attacks. Moreover, ozone can have adverse effects on the environment through oxidative damage to vegetation including crops.
Where can I learn more?
Agriemach offer complimentary training sessions for individuals or teams in order to share knowledge of design and integration of SCR technology with power generation products. These are conducted either via remote sessions or in person at our training facility in Uckfield East Sussex. Please contact us for available dates.
For further details on our NOxMASTER™ technology, a copy of our reference list or to arrange a visit to one of our live sites; please contact us +44 (0) 1342 713743 | info@agriemach.com | www.agriemach.com