NOxMASTER™ SCR Systems | 2145 kWm Cummins QSK60-G8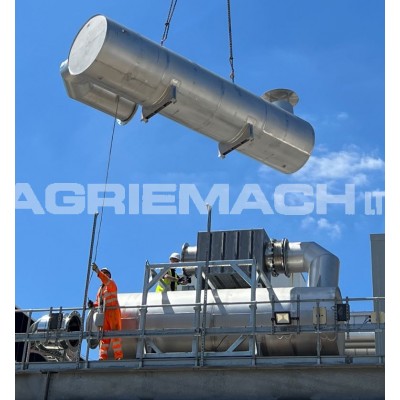 Last Monday saw the customer inspection and pre-delivery approval for this pair of Silencer Integrated NOxMASTER™ SCR systems. One week later the systems are on site and being lifted in to position ready for final connection, installation and commissioning.
These 2145 kWm Diesel generators are being fitted with our NOxMASTER™ Silenced SCR systems to reduce NOx and include silencing functionality down to 70 dB(A)@1m.
The Agriemach Emissions Team were asked to design a solution to meet the customer's requirements and ensure that the engineered solution would fit within the space provided. So that's exactly what they did!
For further details on our NOxMASTER Selective Catalytic Reduction Solutions and a copy of our reference list, please contact our dedicated emissions team on +44 (0) 1342 713743 | info@agriemach.com | www.agriemach.com