HL 400 V Virus Air Cleaner | 99.99% Removal of Bacteria & Viruses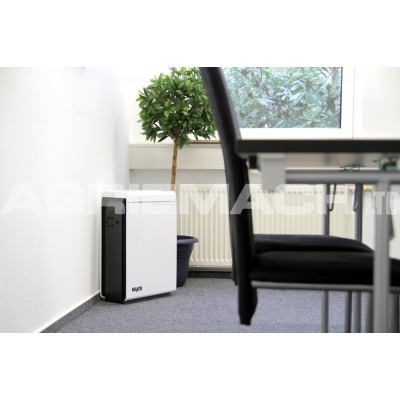 Agriemach are proud to feature the Heylo HL 400 V Virus Air cleaner, which offers removal of up to 99.99% of airborne bacteria & viruses including Covid-19. This ultra-high level of particle removal is thanks to the certified hospital grade (according to EN 1822) H14 HEPA filter installed within the unit.
The HL 400 V unit is ideal for use in almost any indoor application where people are present.
The HL 400V is a mobile air filter device housed in a modern & sleek design, which also comes with an 'app' allowing full control of the unit using WiFi. Being mobile, the unit is lightweight, portable and can be purifying the air you breathe in minutes.
The main HL400 V Features:
Modern design air cleaner.
Filters bacteria, viruses, pollen, dust, odours.
Virus filter box (HL 400 V) with certified H14 filter system.
High airflow rate – 164 m³/h
3 fold air exchange rate – Room sizes up to 23m2
Sterilizing UV-A light against bacteria (365 nm). 3-speed fan.
Automatic air quality control.
Elegant LED air quality display.
Whisper-quiet night operation – 32 dBA @ 3m
Fragrance function.
Removable cover for easy filter change.
Can be controlled via WiFi via the app.
More product information can be found on our website here, or contact our Technical Sales Team today to talk through your application and see just how we can help.
+44 (0) 1342 713743
info@agriemach.com