MCPD SCR for NOx Reduction | HMRC Stratford | AMPS Power 2021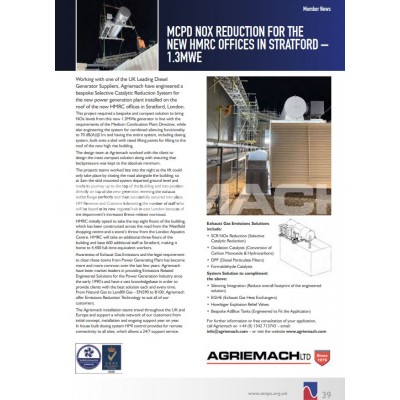 Don't miss AMPS Power 2021 "The Emissions Issue" where the Agriemach NOxMASTER™ Selective Catalytic Reduction System installed at the HMRC offices in Stratford has been showcased.
Working with one of the UK Leading Diesel Generator Suppliers, Agriemach have engineered a bespoke Selective Catalytic Reduction System for the new power generation plant installed on the roof of the new HMRC offices in Stratford, London.
This project required a bespoke and compact solution to bring NOx levels from this new 1.3MWe generator in line with the requirements of the Medium Combustion Plant Directive, while also engineering the system for combined silencing functionality to 70 dB(A)@1m and having the entire system, including dosing system, built onto a skid with rated lifting points for lifting to the roof of the new high rise building.
The design team at Agriemach worked with the client to design the most compact solution along with ensuring that backpressure was kept to the absolute minimum.
The projects teams worked late into the night as the lift could only take place by closing the road alongside the building; so at 3am the skid mounted system departed ground level and made its journey up to the top of the building and into position directly on top of the new generator, meeting the exhaust outlet flange perfectly and then successfully secured into place.
For further details on how Agriemach can help you achieve permit requirements for the Medium Combustion Plant Directive (MCPD) or for Non Road Mobile Machinery (NRMM), please contact our emissions team +44 (0) 1342 713743 or email info@agriemach.com
To see one of our installation videos please follow this link https://www.agriemach.com/20616-mcpd-nox-reduction