Tailored High Temperature Insulation Jackets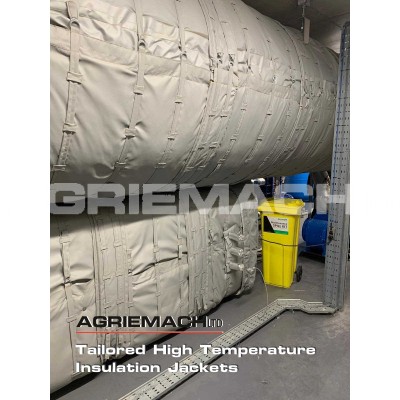 Agriemach offer a Design, Supply and Fit service for tailored insulation jackets across a wide range of applications.
Our comprehensive and bespoke range offers jackets that either keep the heat in or keep the cold out; along with protecting personnel working in hazardous areas where operational Exhaust Systems, Pipes, Valves etc. need to be covered.
Design – Agriemach offer a design service where we can either work from technical drawings or visit site to template for production.
Supply – Agriemach supply for "One Off" or "Scheduled Production" orders. We will provide solutions for applications big or small.
Fit – Agriemach offer a full installation service throughout the UK and Europe.
For further details on our Tailored High Temperature Insulation Jackets please take a look at our Insulation Catalogue – Call our Technical Sales Team +44 (0) 1342 713743 or email info@agriemach.com