Agriepure Diesel Polishing | on Engine | on Tank | Mobile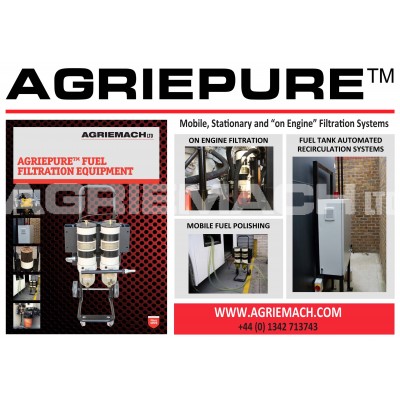 The Agriepure range of Diesel Polishing Systems caters for all market areas using and storing diesel fuel. Agriemach offer a wealth of experience with fuel contamination issues and can offer solutions for reactive and preventative fuel tank maintenance.
Preventative options include our fully automated Bulk Tank fuel polishing systems which keep diesel fuel clean and ready for emergency standby generators.
Reactive options include our Mobile Filtration Systems which can be used to clean any diesel tank, from Excavators & Dumpers, to Diesel Generator Belly Tanks.
On Engine options include our range of Turbine Series 3-Stage filtration systems which will separate water and also particulates down to 2 micron in size; ensuring that your asset is always fully protected from any fuel contamination.
We have solutions for diesel bug associated issues – both preventative and reactive – and with all of our products being available on a next day delivery service, we can ensure minimum down time.
For further information on our range of Agriepure Filtration Solutions, please call our offices:
+44 (0) 1342 713743 | email: info@agriemach.com | or visit our website: www.agriemach.com or www.firstforfilters.co.uk