Selective Catalytic Reduction (SCR) | Service and Support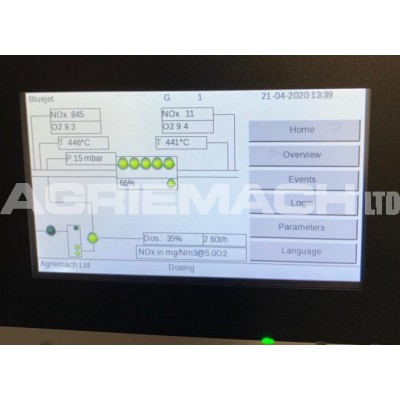 The Agriemach service team were out in force yesterday calibrating NOx Sensors, changing urea filters and testing emissions in prime power energy centres within London.
The need for optimised power production has not gone away and our goal of "clean air" remains the same at all times. Exhaust Gas After-treatment is simply what we do.
This example photo from one visit yesterday demonstrates the efficiency of our NOxMASTER Selective Catalytic Reduction Systems for reducing NOx Emissions. This Natural Gas CHP has been emissions optimised to increase its efficiency resulting in a higher financial return for the client.
The CHP emissions have been set near 850mg/Nm3@5%O2 allowing the SCR to reduce the NOx required for the local emissions permit achieving a 98.69% reduction efficiency to 11mg/Nm3@5%O2.
Agriemach are Number One for Bespoke Selective Catalytic Reduction (SCR) Systems in the UK, boasting the longest reference list and incredibly high reduction rates where required. No application is the same; all of our systems are bespoke and designed around customer/application needs.
To discuss your requirements or to request a copy of our reference list, please email info@agriemach.com or call +44 (0) 1342 713743 or visit our dedicated SCR product page via our website https://www.agriemach.com/20616-mcpd-nox-reduction .
Please also feel free to request a "Product Training Day" at our Training Centre in Uckfield, East Sussex, where our Emissions Specialist team would be more than happy to present you with our Award Winning Technology.
#NOx #CHP #NOxMASTER #cleanair #engineeredsolutions #SCR