Diesel Biocide | Agriepure™ Additives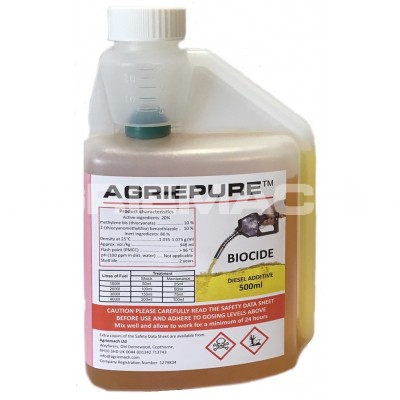 Agriemach offer a wide range of fuel filtration products, one of which is our very own Agriepure™ Diesel & Biodiesel Biocide.
Diesel Biocide can be used as a preventative measure or a cure to diesel bug related issues in diesel fuel.
Diesel Biocide is an oil-soluble preservative for the control of bacteria and fungi that cause the degradation of crude oils and refined fuel oils during storage.
Our Diesel Biocide has a proven track record for getting the job done! It is strong and tough enough for the worst cases of Diesel Bug. It is used by our customers, big and small, and never misses the mark.
Contact the Agriemach Team today for further assistance.
For further details on our Diesel Biocide, please visit its dedicated product page https://www.agriemach.com/racor-diesel-biodiesel-biocide?search=biocide&tag= or call us on +44 (0) 1342 713743 or email info@agriemach.com .