Selective Catalytic Reduction | Battersea Power Station | AMPS Power 2020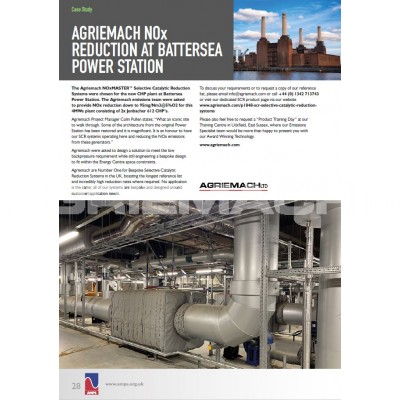 Don't miss AMPS Power 2020 Issue 3 (page 28) where the Agriemach NOxMASTER™ Selective Catalytic Reduction systems installed over at Battersea Power Station have been showcased.
Agriemach worked with fellow AMPS member Clarke Energy Ltd to engineer a suitable SCR system for each of the Jenbacher 612 CHP`s that were to be installed. The successful installation now provides a Combined Heat and Power Plant offering 4 Megawatts of power, Exhaust Gas Heat Recovery and NOx emissions below 95mg/Nm3@5%O2.
Engineered solutions for Low NOx (as low as 5mg/Nm3@5%O2), Low Backpressure and Low OPEX is what we do.
A link to AMPS Power Magazine can be found here AMPS POWER MAGAZINE
For further details on the solutions we can offer, please contact us +44 (0) 1342 713743 or email info@agriemach.com