Virus Air Cleaners
Filters against viruses and germs
What do air filters do?
Viruses, bacteria and other germs are not only found on surfaces, but also in the air, especially indoors. When people come into rooms such as, offices, classrooms, restaurants or fitness studios together, bacteria and viruses can begin to circulate through the room, these tiny unseen droplets can float in the air for hours and lead to infection even when the infected person is no longer in the room.
An air purifier reduces the concentration of viruses and germs, as well of course pollutants such as dust, pollen and allergens that are in the indoor air. In this way, air purifiers also help to significantly reduce the concentration of viruses in the room air.
Requirement: Use of air purifiers with HEPA H14 filters
It makes sense to use HEPA air purifiers with H14 filters for the removal of viruses and germs. These medical grade (certified H14 according to EN1822 filters) have a permeability of 0.005% and should be set up to remove pollutants from the air, especially in high traffic areas such as waiting rooms in medical practices, offices, schools, canteens or production plants. Air purifiers with HEPA H14 filters are also routinely used in hospitals and laboratories.
Effect of filters against viruses
Viruses have a size of 0.05 µm to 0.12 µm and in the area of transmission via inhalation, i.e. droplets and aerosol, they are combined with other particles, such as saliva or suspended matter and form so-called conglomerates. These are also called germs and usually have a size between 0.4 µm and 0.5 µm. Influenza viruses usually have a size between 0.08 µm and 0.12 µm. According to the current state of scientific knowledge, the SARS-CoV-2 (corona virus) is somewhat larger at a maximum of 0.160 µm.
HEYLO air purifiers with H14 filters work effectively against airborne viruses & bacteria.
In principle, the suitability of filters for virus applications begins with class H 13 and the more reliable separation of germs (conglomerates) is achieved by using at least H 14 filters. These have a separation efficiency of 99.995 %, with a test particle size of 0.3 - 0.5 µm, which is 10 times higher than that of H 13 filters. Also hospitals and laboratories commonly use this filter class. Therefore, the (PF 1000, PF 1400, PF 3500, HL 400, HL 800) with a certified H 14 filter are able to reduce the amount of germs in the air considerably and thus also reduce the risk of infection.
Mode of operation of H 14 filters and their effectiveness against corona virus
Air that we breathe out can contain viruses. Just as influenza viruses are detectable, SARS-CoV-2 is also detectable in the exhaled air of an infected person. Viruses such as influenza (with a size of 120 nm) and SARS-CoV-2 (with a maximum size of 160 nm) do not move around in the air in isolation, but are enclosed in larger droplets. They therefore move in the form of an aerosol. When breathing, every human being emits tiny droplets (of a size of 1 µm). Each breath can contain 1,000 to 50,000 droplets. When coughing, the droplets are ten times larger (over 10 µm). Thus, a filter is able to eliminate over 90% of the suspended particles*.
The HEPA filter H 14
The H 14 class of HEPA filter (tested according to DIN EN 1822) are used in medical areas such as intensive care units and laboratories as well as in 'clean rooms'. The choice of filter class depends on the particular application.
HEYLO filters: made in Germany
HEYLO filters are EN-compliant and certified. H14 filters catch 99.995% of all particles from a size of 0.1 µm.
Especially for non-professional applications (e.g. vacuum cleaners), there is a wide range of filters on offer that bear the designation HEPA in their name but do not guarantee the mentioned specifications of the EN-standards. For this reason, it should be checked carefully before each use whether these are certified H 13 or H 14 filters. Test certificates of individual tests are available for these filters.
Conclusion: If we assume that viruses in the air are enclosed in droplets, and these have a size of 1 to 10 µm, H 14 filters can significantly reduce the virus concentration in closed rooms and contain the risk of infection.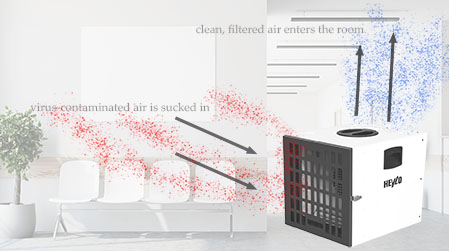 How do air purifiers work?
Contaminated air is sucked in by the air purifier with the aid of a fan and passes through various filters. Coarse particles up to 3 µm are separated by the pre-filter. Depending on the application, an M-class fine dust filter for particles up to 1 µm and a degree of separation of 99.9% or a particulate filter (HEPA filter) with a degree of separation of 99.995% can be used as the main filter. In addition, carbon filters can be used to neutralize odours. Depending on the device, two to three filter levels are possible.
Recent studies have shown that devices with appropriate filter combinations are able to effectively eliminate virulent aerosol clouds. Appropriate devices with class H14 filters ensure that the aerosol concentration in rooms can be reduced to a low level within a short period of time. In rooms where people meet, such as schools, offices, shops, waiting rooms, club rooms, fitness studios, lounges and dining rooms, etc., air purifiers are a useful technical solution.
Installation of the air purifier
The use of air purifiers makes sense where a larger number of people meet or work in an indoor space.
In addition to the correct placement, the issue of volume must also be taken into account. Which dB (A) value is appropriate depends on the situation, but also on the acoustic conditions of the room. Please contact us, we will determine the right device based on your situation.
How is the correct number of devices calculated?
In order to achieve the best possible effectiveness of the air purifier, the installation location in the room and the room conditions such as room volume, air flow and air currents in the room must be taken into account. The cleaning performance must match the size of the room and the number of people.
An air purifier is no substitute for regular ventilation.
Correct air flow
The air purifier should be placed so that it can capture the air in all areas of the room. The device sucks in the contaminated air from all directions at the top of the unit and once the air has been cleaned, it is blown free of viruses towards the ceiling. The unit also creates an 'air cylinder' which ensures that clean air is distributed throughout the room.
When do filters have to be changed?
The filter change indicator in the HEYLO air purifiers shows when a filter needs to be changed. The filter should be replaced as soon as the warning indicator lights up. In hygienic applications, we recommend replacing the filter 1-2 times a year, regardless of the device's warning display.
Filters contaminated with pollutants must be disposed of in accordance with their respective regulations.
Step by step instructions for changing the filter:
When the filter change indicator lights up, switch off the device.
Put on gloves and mask.
Spray the front of the filter with surface disinfectant.
Remove and responsibly dispose of the filter using an appropriate waste facility.
The Agriemach Range of Virus Air Cleaners cover applications large or small:
Homes
Offices
Schools, Colleges, Universities
Medical Centres, Hospitals
Factories
Airports
Train Stations
Shopping Centres
And many, many more…….
Our range of Air Cleaning Systems are portable, quick and easy to set up and operational in no time at all. For larger scale areas which require a more permanent solution, we offer a full installation service to get you up and running in no time at all. We also fully support all of our systems and offer ongoing service and support.
Contact our Technical Sales Team today to talk through your application and see just how we can help.
(*Source: https://www.lungenaerzte-im-netz.de/krankheiten/covid-19/was-ist-covid-19/)
Showing 1 to 5 of 5 (1 Pages)