Husky VIII Diesel Nozzle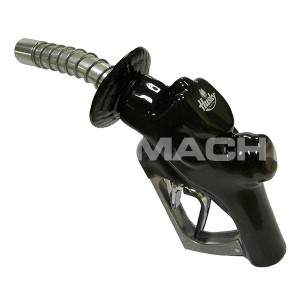 Product Code: HU-749338-04
Availability: In Stock
Prices from: £196.62 (inc VAT)
Ex VAT: £163.85
This product has a standard delivery charge of £12.00
Free delivery on orders over £250.00 (excl. VAT)
The Husky VIII Diesel Nozzle is a durable and heavy duty automatic shut off nozzle, designed for the high flow refuelling of large agricultural and plant machinery. Thanks to its incorporated Flo-stop® device, the VIII Husky fuel nozzle shuts off the flow of fuel when the spout is raised above the horizontal or fall from the fill point. This fuel nozzle benefits from a reinforced spout bushing and a sensing port located behind the spout end, ensuring that even after a lot of use, the spout doesn't get worn causing nuisance click offs.
A further useful feature of the VIII Husky nozzle is its dual poppet, which enables the easier opening of the fuel pump nozzle when high system pressure is present due to the high flow. Please note models with swivel may have a reduced flow rate. If you want to guarantee achieving 250lpm, an optional high flow swivel is available.
You can read more about the advanced design of the 1GS in detail by clicking on our Husky nozzles guide.
Features of the Husky VIII Automatic Diesel Pump Nozzle:
Automatic high flow fuel pump nozzle
Maximum flow rate: 250ltrs Per Min
Inlet: 1" F BSP
Patented Flo-stop® device
Durable die cast aluminium body with full scuff guard
Spout bushing & sensing port behind spout
Turbulent flow reducer for ensuring a streamline flow
C/w waffle guard to protect against splash back
Dual poppet for easy nozzle opening under pressure
Replacement spout kits available on request
Optional high flow swivel available for guaranteeing 250lpm
Code
Product
Description
Price (excl VAT)
HU-749338-04-SW
VIII High Flow Husky Diesel Nozzle - Swivel
Max Flow Rate (lpm) – 170
Max Pressure (bar) – 3.5
Spout OD (mm) – 32.8
Inlet – 1" BSP Swivel
Diesel
£176.73
HU-749338-04
VIII High Flow Husky Diesel Nozzle
Max Flow Rate (lpm) – 250
Max Pressure (bar) – 3.5
Spout OD (mm) – 32.8
Inlet – 1" F BSP
Diesel
£163.85
Accessories
Code
Accessory
Price (excl VAT)
HU-6949
Inlet - 1" M BSP
Outlet - 1" F BSP
Max Flow 375 lpm
£77.47
Write a review
Your Name:
Your Review:
Note: HTML is not translated!
Rating:
Bad
Good
Enter the code in the box below:

Ask a question about Husky VIII Diesel Nozzle

Related Products